After Kawhi Leonard's and Paul George's blockbuster moves to the Clippers and the Lakers acquiring Anthony Davis, what could be the future of the two Los Angeles teams in the upcoming season?
Some would consider the Los Angeles Lakers and Clippers as rivals. However, one side holds a more decorated history than the other. While they do share the same turf, the two teams have never even competed with each other during the playoffs. In 2020, this could be the matchup that decides the Western Conference champions. The Lakers have won 11 of their 16 NBA Championships since moving to LA and is generally more popular among NBA fans. And while the Clippers have never made it past the second round of playoffs, they have sold out every home game since 2011.
Will things change now that each team has acquired some of the best players in the league? Let's find out by breaking their positions one by one.
Point Guard
Rajon Rondo Vs. Patrick Beverley
Four-time NBA All-Star Rondo is known for being a strong player throughout his entire career. He was able to lead the Boston Celtics to the NBA Championships in 2008. He also led the assists per game three times during 2012, 2013, and 2016. Despite being criticized by his former coach for his stubborn nature, Rondo earned his position in the NBA All-Star Rookie team by being an excellent point guard.
Between the two, there is a very small difference when it comes to scoring. However, Rondo shows that he's a better scorer than Beverley. He is also a better facilitator than Beverley, with 4.2 more assists per game on average. Lastly, Rondo has a few more rebounds than Beverley, with only a 0.3 difference on average.
Verdict: Lakers
Shooting Guard
Danny Green Vs. Landry Shamet
Green is known for his superb perimeter defense and 3-point shooting. In fact, during the pre-game starting lineup in 2018-19, he was introduced as, "The money man from three-point land, Danny 'Money, Money' Green." He is a sharpshooter and a rigorous defender, which earned him his reputation for being an energetic shooting guard.
Shamet is a rookie in the game but is quickly proving himself to be a rising star player. He scored the game-winning 3-pointer against the Golden State Warriors.
When it comes to their points per game stats, Green and Shamet come head-to-head, with only a .1 difference in their average in Green's favor. This is for their regular seasons, though. However, in terms of rebounds per game and assists per game. Green is noticeably better than Shamet.
Verdict: Lakers
Small Forward
LeBron James Vs. Kawhi Leonard
James is one of the best NBA players of all time. He was the youngest player to score 30,000 career points, proving that he is one of the best slashers and finishers in basketball. What makes James extremely effective as an SF are his speed, agility, and size, allowing him to dodge by the opponent's defenders easily. Thus, it's no surprise when ESPN ranked him as the best NBA player since 2011.
On the other hand, Leonard was only a rookie when James was high into his career, but that doesn't mean he should be ignored. He was quickly hailed as one of the top contenders for Rookie of the Year. He even led the Toronto Raptors into the 2019 Finals with one of the greatest NBA performances. He shouldn't have difficulty containing James' offense since he is known for his defense and rebounding capabilities.
Still, James' extensive experience and strength might just give him an edge over Leonard. For this position, we'll have to go to James. However, we never know how Leonard will perform against him, so that is something to look forward to.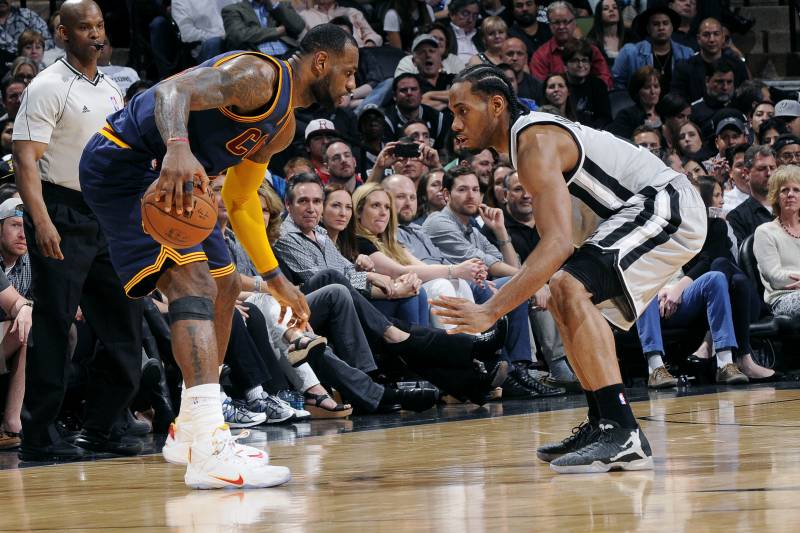 Verdict: Lakers
Power Forward
Anthony Davis Vs. Paul George
Recently, the Lakers gave up a shocking number of picks and assets, including all of their younger players except for Kyle Kuzma. This is to acquire power forward Davis from the New Orleans Pelicans. And now that they have successfully welcomed him into their team, it's predicted that his skill set and talent will greatly benefit the team. His size and strength make him a wonderful shot-blocker. This also makes it advantageous for him to shoot 3-point and effortlessly move around the court. With this skill set, Davis is said to complement James very well, which could lead the team to victory in the next season.
Playing small forward for the Clippers, George is someone to pay attention to as well. Although he significantly lacked ball handles as he was starting with his career, he was eventually awarded as the NBA Most Improved Player during the 2012-2013 season. He is also known as one of the best perimeter defenders and high-flyers in the NBA.
Based on their player statistics, George is a better scorer than Davis, averaging at 2.1 points per game more than him. He is also a slightly better passer than Davis since he has fractionally more assists than him. However, Davis has more advantages when it comes to rebounding since he averages 3.8 boards per game more than George.
Verdict: Clippers
Center
Dwight Howard Vs. Ivica Zubac
Known for his excellent rebounding skills that led the NBA from 2007 to 2010, Howard is an invaluable player to the Lakers. His skills are mainly due to his athleticism, with a running vertical leap of 39.5 inches in 2011. He is described as an "unstoppable force" and a "rebounding machine." However, it was noticed that his athleticism seemed to be diminishing. His ego used to be an issue with his former teams before, but that hasn't affected his ability to play.
Croatian basketball player Zubac might be young, but he has proven to be a good impact defender. With his incredibly tall frame and a good sense of timing, his rebounding is commendable as well. However, his match-up might drag the Clippers down. Compared to his opponents, Zubac might not be strong enough to deal with them, especially seasoned players.
Based on their statistics, Howard has better stats than Zubac. In terms of points per game, assists per game, and field goal percentage, Howard is several steps ahead of Zubac.
Verdict: Lakers
Final Thoughts On Lakers Vs. Clippers
In terms of starters, the Lakers seem to be of a great advantage this season. However, with NBA superstars Leonard and George at the Clippers, this season might just be for them, especially with the Clippers boasting stronger options off the bench. That is if James and Davis don't step up their game. The regular season hasn't started yet, so we'll have to look forward to it before we can be sure.