The Brooklyn Nets had a pretty average NBA season last year; winning half of their games in 42 wins, 40 losses game record, and generally had a rough time of it all. However, fans can be assured that there's going to be a renaissance in their play as they sign in a lot of star players and promising rookies currently in the team for this NBA season, but we'll get to that later. Let's have some backroom talk for now.
New Staff? New Staff!
There are currently four new members in the backroom staff for the Brooklyn Nets that just signed in for this season. J.R Holden was hired this September as the team's Director of Player Personnel after being a Scout on the Philadelphia Sixers, Ryan Forehan-Kelly became the new Player Development Coordinator, and a new hire named Daniel Jones is their new Athletic Performance Coach. And lastly, Tiago Splitter became the new Player Development Coach after being promoted from Pro Scout.
Now, you might be wondering what these roles are for, but they are mostly concerned with the development of the players. Whether these new changes can lead to a potential championship remains to be seen, however, as they will have to navigate quite a few roadblocks. We'll be discussing some in the next few points that I'll put up.
Players And Basketball
Kevin Durant
Let's start with the most obvious, shall we? Kevin Durant. Last year, he played for the Golden State Warriors. Moreover, he led them to a Championship Final against the Toronto Raptors. Unfortunately, due to rupturing his Achilles tendon in the mid-game, he was not able to give them the championship. Besides, this injury had consequences. Because of this, he's slated to miss almost ALL of the games in the 2019-2020 seasons. Furthermore, he is advised to rest and recuperate his injury before actually playing again.
Why Durant Signed For The Nets
What about the reason why he signed in to the Nets? Well, in an interview, Durant stated that he wanted a change, saying that he "just did it." For now, Durant's main focus is resting and going back on his old form after he recovers from his injury.
Because of Durant signing in to the Nets and a 2020 first-round draft pick, they had to exchange D'Angelo Russel, Shabazz Napier, two of their guard position players, and their forward Trevor Graham.
Kyrie Irving
Another addition to the Nets roster is Kyrie Irving, who moved in from the Boston Celtics after a rocky departure due to personal reasons. Kyrie felt that he let his team down in the previous season but wants a change. Besides, he said that after the messy way he and his teammates departed, he's going to the Brooklyn Nets with a "fresh mindset" to it all.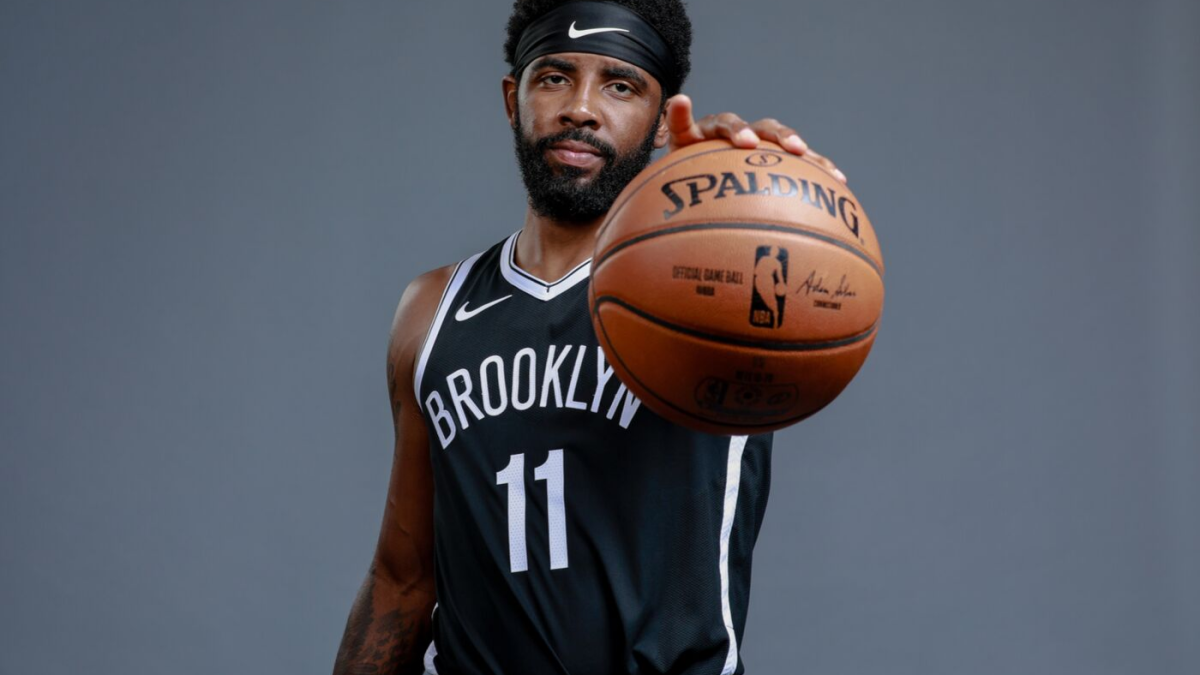 DeAndre Jordan
As for DeAndre Jordan signing in for the Nets, he said that he took the opportunity to play with longtime friend Kyrie Irving. Moreover, he stated that he took advantage of the chance to do so, that is, splitting from his previous team, the New York Knicks.
Nicolas Claxton
Draft wise, the Nets kept center Nicolas Claxton and traded Mfiondu Kabengele and Nickeil Alexander-Walker to the LA Clippers and Atlanta Hawks respectively, with the Clippers exchanging Jaylen Hands for Kabengele, while Alexander Walker's swap to the Hawks as part of a trade for Taurean Prince alongside the Nets guard/forward Allan Crabbe and a protected 2021 second-round draft pick.
Brooklyn Nets Probable Starting Lineup
Currently, their starting lineup is a guess for me. But based on stats, it's going to be composed of Kyrie Irving as their Point Guard, DeAndre Jordan as their Center replacing their former Center Jarrett Allen, Caris LaVert as their Small Forward, a Shooting Guard in Joe Harris, and Wilson Chandler as their Power Forward.
Now bear with me here. Kyrie Irving is a shoo-in for the Point Guard position. Besides, that is certain. And, DeAndre Jordan is a powerful Center player. Moreover, his stats reflect that, with 11 points, 13.1 rebounds, and 2.3 assists on average. The Nets would want him as their Center. Furthermore, the rest of the starting lineup would be to assist in scoring and defense, which explains Chandler's position.
Brooklyn Nets Roster Depth
So now, let's talk about Bench Depth, or Roster Depth, however, you call it. Measuring the importance of roster depth in today's NBA is tricky. On one hand, it can prove to be vital to the success of a team that isn't necessarily top-heavy. However, it loses significant value when the playoffs start and rotations tighten up.
At the time of this article's release, the Brooklyn Nets star roster is a bit… promising. However, the analysts with better skills at analyzing than this article's writer have incredibly polarizing statements. Besides, some say that the roster would contend for the top spot in their conference, while others say the exact opposite. Whatever the case, the roster will be the one to watch as the season starts.